Pawlenty Education Agenda Released at Press Conference
Unknown School) Originally published March 2004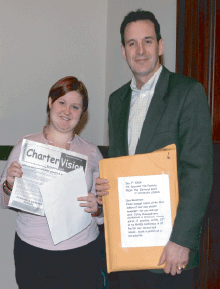 Charter Vision Editorial Board Member, Megan, an 11
th
grade student at Avalon in St. Paul, presented Govenor Tim Pawlenty the first edition of the Charter Vision
Charter Vision Editorial Board Member, Megan, an 11th grade student at Avalon in St. Paul, presented Governor Pawlenty the first edition of the Charter Vision Newspaper during his press conference at the Govenor's Office on January 5, 2004.
At the press conference, Governor Pawlenty released his legislative agenda for 2004. Minnesota Association of Charter Schools Executive Director, Steve Dess attended the press conference with Megan.
Pawlenty's education agenda could have an impact on charter schools. Pawlenty's agenda includes support for charter school students' participation in extracurricular activities at resident district schools and an increased number of charter schools.
Charter school leaders are watching closely as this legislative session addresses equal access to extracurricular activities for charter school students. Similar legislation has been proposed in previous years, once passing in the House, and in a separate year, passing in the Senate. Dess believes that this could be the year for it to become law.
The House heard proposed legislation on February 18th. Students from Math and Science Academy and ARTech testified at the hearing committee meeting. According to DFL Representative Mindy Greiling, charter schools are a "non-partisan" issue, supported by both Democrats and Republicans.