CPA Builds Community with Habitat for Humanity
Adrian (Grade 11 / Community of Peace) Originally published November 2003
Editors' note: Habitat for Humanity International is a nonprofit, non-denominational Christian housing organization. Since 1976, Habitat has built more than 150,000 houses in more than 89 countries, including some 50,000 houses across the United States. (
www.habitat.org
)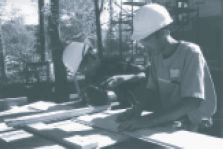 CPA Students work on Habitat for Humanity house
Look out, Jimmy Carter. The Community of Peace Academy juniors are here! Over a two week period, CPA's 11th grade went to Newport, Minnesota to work on a Habitat for Humanity house, emulating the former president.
On October 6th, the class traveled the 20 minutes to Newport to spend the day putting up siding and putting down sod to help the less fortunate. The class was split into two groups, which alternated so that some school work could still get done. Each group worked with a professional crew chief named David, who explained the procedures and answered any questions about J-channeling and other aspects of construction.
The house CPA worked on, a duplex, is known as the "house that Cher built" because the singer's friends raised money to have the house built for her birthday. Cher herself even pounded in some nails. The house is part of a seventeen-unit section of St. Paul Habitat for Humanity.
David told us that the house would probably be on the market for about $70,000 and, judging from how nice the house was, that's a really decent price.
At the end of the eight days, more than half of the siding was done, one of the houses had a new yard of sod, and the 11th graders had a sense of pride in a job well done.
And the free donuts from Byerly's for helping out didn't hurt, either.
"We arrived at the site at 9:30 and started at 9:45. We started putting up siding while Kang Bao, Sundus, Houa and Tou Shoua were trained how to put up the plastic channeling around electrical boxes, by David, the site supervisor. The rest of us, Yeng, Adrian, Mr. Fleming, Ricardo, and I put up the first vinyl siding panel. We got the first two panels up and then we ate. It was 12:00 and we had bag lunches with a cooler full of milk and water. The washrooms were two outhouses, or we could use the church restroom if we wanted… We started the siding again at 12:30. Ricardo and I worked on the third panel, and it took us four tries to it right. We finally got the measurements, but it was too low. We took it off and pulled the third one up and renailed it, put the fourth one up, and finally got it to look straight. That's the most important rule: make sure it looks straight. We got it right, cleaned up, and got back to school at 3:00."
– Adam, 11th Grade, CPA
"Habitat for Humanity is a non-profit organization that builds houses. 75% of their labor is done by volunteers. During the two weeks that I worked with them, I learned many things, including how to put siding on houses. Before I went, I figured that it would be another boring volunteer job. But, to my surprise, it was actually very enjoyable. I would honestly prefer working for Habitat for Humanity over going to school. During the whole time, I had a lot of fun. We put up the siding for the houses and put the sod in place. I also learned a lot in those four days. The best part for me was when I got to dig four big holes. Each was 5 feet deep; it was tiring but very fun. Hope the class next year has as much fun as we did."
– Chue, 11th Grade, CPA
"Early in October, our 11th grade class worked on a house. It was for our Ethics class. Doing this project for 11th grade is essential for you to graduate. We did this project for people who could not afford housing. This was a nice experience… The first day that we were there, we did not know much, but we at least figured out how to channel and put on siding. I've had some experience doing siding. The only difference from this experience is that, previously, I got paid for my services. Other than knowing what each person was capable of doing, we all got to know each other outside our school environment. Overall, it was a great experience."
– Ricardo, 11th Grade, CPA
"Well, I'm sad to say we are done with the Habitat for Humanity project. It was the best experience of my life. I learned some new skills, like: channeling, siding, leveling basements, putting on plaster, and laying sod. When my dad is fixing our house and needs help, I cannot wait to show him what I can do. We were not done with fixing the house, but I'm sure when the house is done the owners will love it… On October 8th, 2003, when we got to the site, we all got started working on the house right away. I stared working on the base stripping because I was done with channeling. Base strip is when you nail this piece of metal on the bottom of the house. That was the easy part; I got that done in only about thirty minutes. So after I was done with that, I decided to take a little break. I went inside the house. It looked empty."
– Houa, 11th Grade, CPA